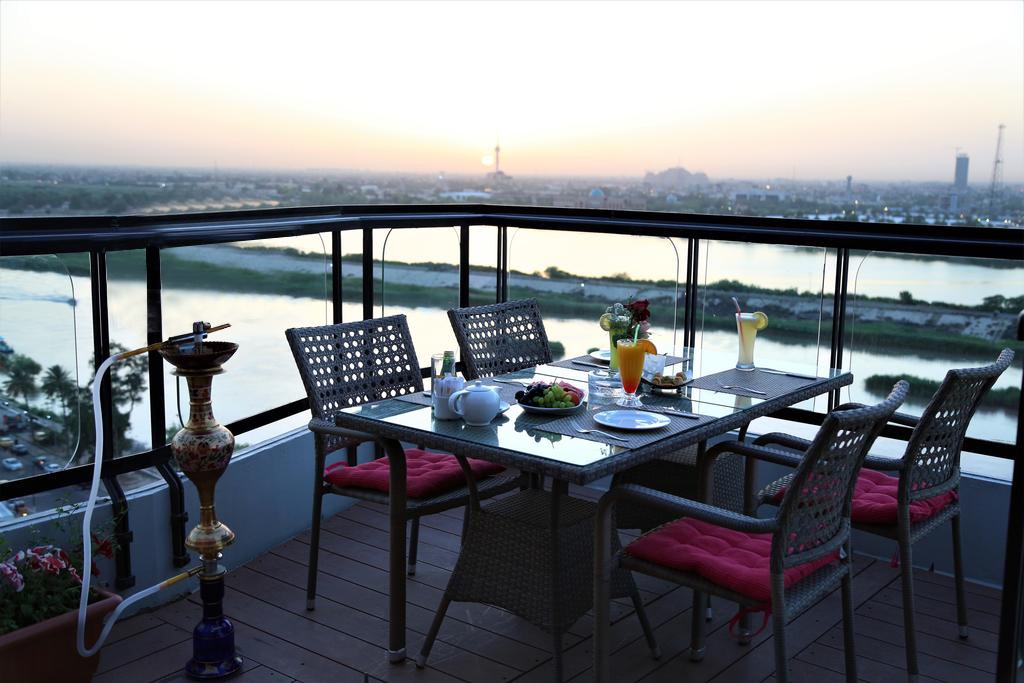 Babylon Warwick Hotel Launches New Menu at Sky Palace Restaurant
Sky Palace, the Babylon Warwick Hotel's signature restaurant serving authentic Lebanese cuisine has unveiled a new menu to celebrate the festive season. Situated on the 14th and 15th floors of the hotel, the Sky Palace is the highest restaurant in Baghdad. Diners get to enjoy not only its delicious food but also spectacular panoramic views of the Tigris River and the beautiful surrounding areas from the patio terrace or through the floor to ceiling windows of the main restaurant.
Heralding the arrival of the new season, the irresistible menu offers a wide selection of mouth-watering dishes. Mr. Emad Al Obeidi, General Manager of Babylon Warwick Hotel, said, "We constantly look for ways to add value for our customers. Creation of the new menu is part of our strategy to offer dinners exciting new dishes along with their favorite ones. Each item on the menu has been carefully selected and prepared with the utmost care using the season's freshest ingredients."
Guests can also choose from a variety of Mediterranean specialties encompassing the flavors of the Levant and beyond. Mr. Obeidi pointed out that the hotel's culinary team has been experimenting with the ingredients to give a new twist to known dishes. He stated, "The launch of new menus is an opportunity for the chefs to showcase their creativity while maintaining overall value to meet the expectations of the hotel's loyal customers as well as first-time visitors. As part of our operations policy we tested the dishes over a period of time to ensure the perfect taste, quality and consistency and have received an excellent feedback from our guests."
The Sky Palace team prides itself on creating memorable experiences for any occasion, from romantic dinners to family celebrations, or important business events.
Timing: Open daily from 4:00pm to 11:00pm
For more information and reservations please call +964 7 505 223 333, or email info.babylon@warwickhotels.com
About Babylon Warwick Hotel
Discover the luxurious Babylon Warwick Hotel in Baghdad. The beautiful 5-star property is conveniently located beside the green zone, next to the historic Tigris River and is only 30 minutes' drive from the Baghdad International Airport. It offers shopping enthusiasts easy access to the souks and bazars of downtown Baghdad, whilst many of the cities' top attractions are also only a short drive away. Babylon Warwick Hotel's overall security profile has been enhanced with the presence of both the local police and contracted International Private Security Company to ensure not that only the hotel benefits from the additional security, but the area in general.
The hotel boasts 279 newly refurbished guestrooms and suites equipped with the finest amenities with most offering panoramic views of the Tigris River or city vistas. Babylon Warwick Hotel is a tranquil retreat in the midst of the bustling city with a wide range of facilities. When it comes to recreation facilities guests are spoilt for choice with superb tennis courts, full-service Babylon Spa, temperature controlled in-door and outdoor Olympic sized swimming pools, well-equipped fitness center, kids' play facilities and four exceptional dining venues. On site are also extensive business facilities including over 1300 sqm of flexible event spaces (choice of meeting rooms and a magnificent ballroom), executive lounge and business center. For more information visit https://warwickhotels.com/babylon-hotel/
For media contact:
Hina Bakht
Managing Director
EVOPS Marketing & PR
Mob: 00971 50 6975146
Tel: 00971 4 566 7355
Hina.bakht@evops-pr.com
www.evops-pr.com