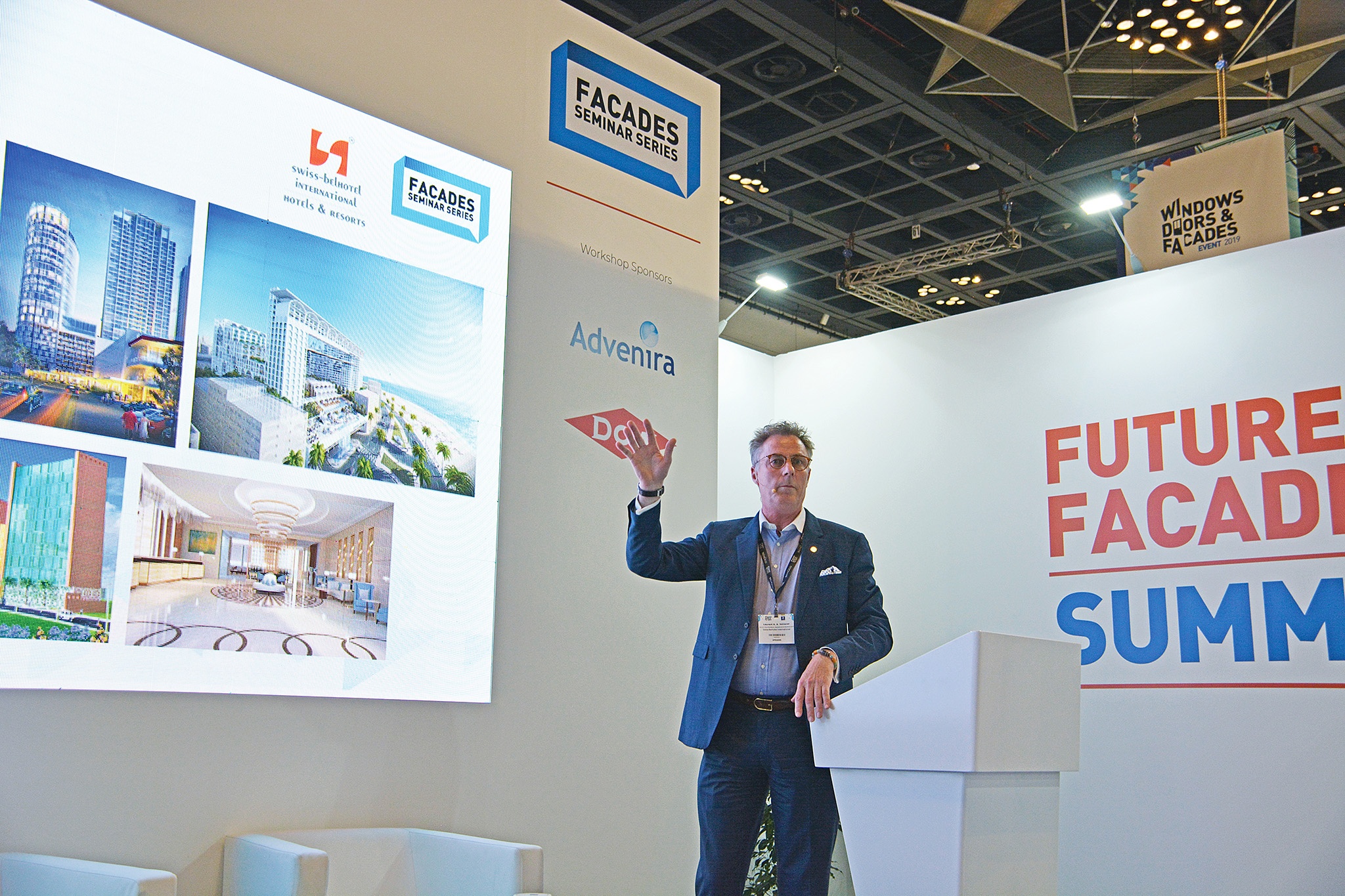 LAURENT A. VOIVENEL, SVP OPERATIONS & DEVELOPMENT, SWISS-BELHOTEL INTERNATIONAL, SPEAKS ON INNOVATIVE GLASS TRENDS IN HOTELS AT GULF GLASS SEMINAR IN DUBAI
Laurent A. Voivenel, Senior Vice President, Operations and Development for the Middle East, Africa and India for Swiss-Belhotel International, made a special presentation today on innovative glass trends in hotels at the Gulf Glass Seminar in Dubai.
Speaking at the conference, Laurent said, "For many years, glass was simply seen as a window in architecture with the fundamental purpose of allowing light to enter a space and for occupants to see outside. However, today glass technology has advanced rapidly, and it is being used in some of the world's most iconic buildings. Structures are getting thinner and glass is getting larger, smarter and trendier. Burj Khalifa utilized a record-breaking 103,000 square meters of glass. Glass has also been used extensively in construction of Dubai Frame – the world's largest frame. Another great example is Dubai's Museum of Future where 890 stainless steel and fibre glass panels make up the exterior. At Swiss-Belhotel International too, we have some stunning projects coming up with beautiful glass structures."
Elaborating on the latest glass technology, Laurent stated, "Glass is becoming smarter and smarter. One of the most promising new technologies in the field of intelligent glass is dynamically switchable glasses. These glass types use electronic control to vary their light and heat transmission, either manually or through pre-programmed control logic."
Another outstanding recent development has been the use of glass as a source of energy. Laurent stressed, "Environmentally-responsive coatings allow solar heat gain transmission to change throughout the day. With use of such technology hotels can enjoy the flexibility of both low light consumption as well as low HVAC expenses."
Talking about the usage of glass in interior design, Laurent said, "Hotel guests are getting younger. The hospitality business needs to adapt to new demographics and give guests what they want. We are seeing more open and clear spaces in hotels, and less walls resulting in greater use of glass. At the same time, coloured glass remains a hot favourite in interior design and will surely be an important material for hotels going forward."
For media contact:
Hina Bakht
Managing Director
EVOPS Marketing & PR
Mob: 00971 50 6975146
Tel: 00971 4 566 7355
Hina.bakht@evops-pr.com
www.evops-pr.com
About Swiss-Belhotel International
Swiss-Belhotel International currently manages a portfolio of more than 145* hotels, resorts and projects located in Cambodia, China, Indonesia, Malaysia, Philippines, Vietnam, Bahrain, Egypt, Georgia, Iraq, Kuwait, Oman, Qatar, Saudi Arabia, United Arab Emirates, Australia, New Zealand, Bulgaria, Germany, Italy, Switzerland and Tanzania.  Awarded Indonesia's Leading Global Hotel Chain for eight years, Swiss-Belhotel International is one of the world's fastest-growing international hotel and hospitality management groups. The Group provides comprehensive and highly professional development and management services in all aspects of hotel, resort and serviced residences. Offices are located in Hong Kong, New Zealand, Australia, China, Europe, Indonesia, United Arab Emirates, and Vietnam.
*Numbers may fluctuate
For further information visit https://www.swiss-belhotel.com