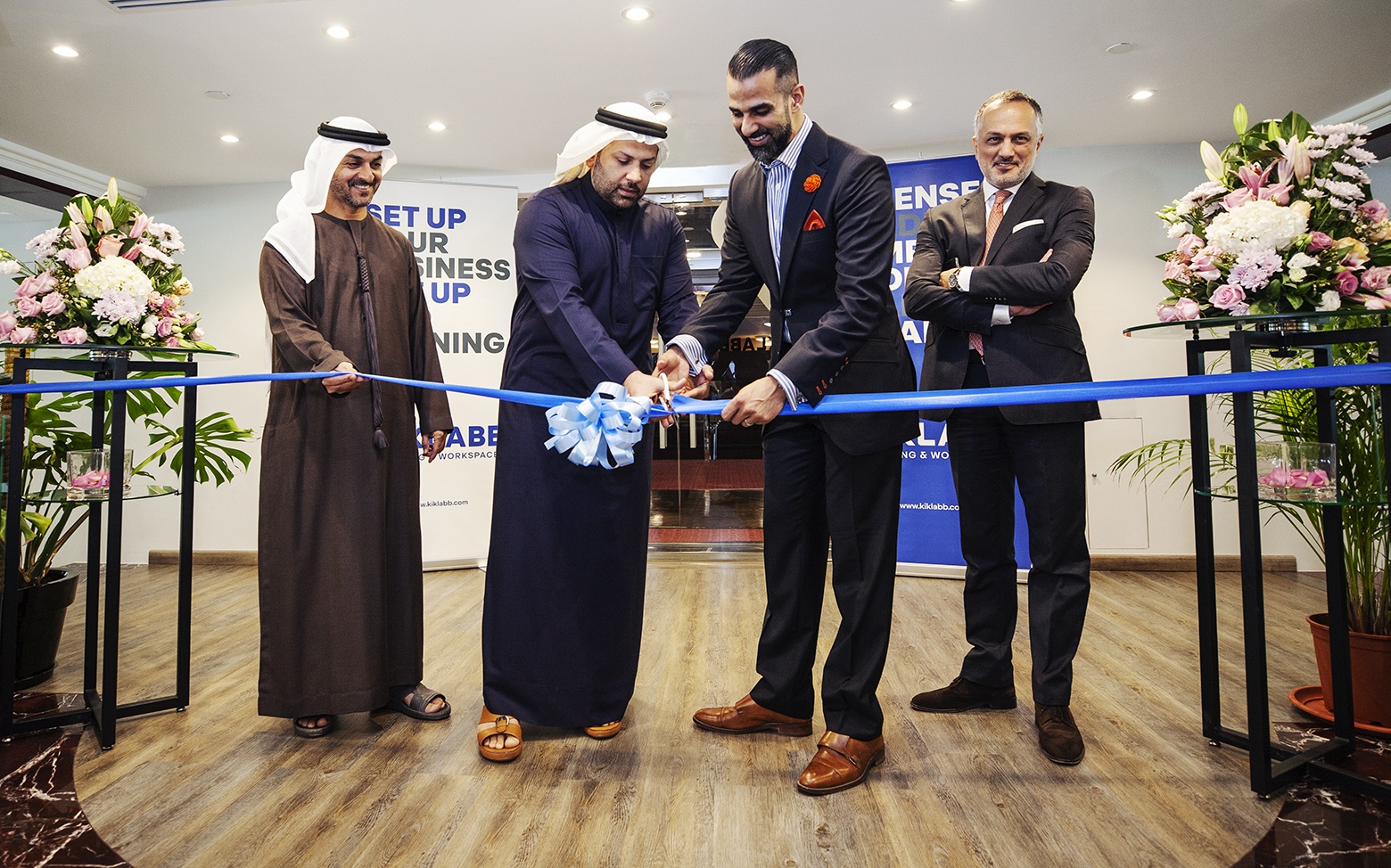 KIKLABB: Intelligent Workspaces Announces Opening of its First Facility at Queen Elizabeth 2
KIKLABB: Licensing & Workspaces has announced the opening of its flagship business at the iconic Queen Elizabeth 2 (QE2). It was officially inaugurated by Mr. Hamza Mustafa, CEO of PCFC Investments; Mr. Abdulla Belhoul, CEO of PCFC-Trakhees and Mr. Tasawar Ulhaq, CEO of KIKLABB.
Spread over an area of 25,000 square feet, with imminent plans of expansion, KIKLABB offers an excellent choice of private offices, co-working spaces and flexi desks. Heritage, innovation, convenience, culture and community have been seamlessly integrated to provide businesses the opportunity to connect and grow.
Tasawar Ulhaq, CEO, KIKLABB, said, "The legendary QE2 makes for an extraordinary location for our flagship facility in Dubai. The way we work is evolving and so are the needs of the market. With the ability to issue trade licenses and offer intelligent workspaces, KIKLABB is designed to transform the working experience. Our outstanding facilities driven by technology, offer an array of financial and strategic benefits, increasing efficiency and productivity. The first step of setting up a business is getting a trade license and as a government-owned entity, at KIKLABB we issue both Dubai Free Zone and on-shore DED licenses."
Tasawar added, "Our ultimate goal is to create a licensing solution and an environment that promotes collaboration and creativity through a well-balanced ecosystem. KIKLABB is a centre of gravity, filled with potential for international companies, SMEs, start-ups, investors, and entrepreneurs."
With the flexible working trend gaining momentum, demand for flexible workspaces is on the rise in Dubai. According to Colliers' data, Dubai currently has over 650,000 square feet of flexible and co-working space spread over 53 locations. The supply of co-working centres in the city, from both new market entrants and existing operators, will continue to increase with minimum 320,000 to 530,000 sq ft of space expected to be dedicated toward this sector by the end of 2020. Projections for the region forecast that flexible workspaces will constitute more than 60 per cent of the total office demand in GCC by 2025.
Passionate about the topic of shared economies, Tasawar adds "KIKLABB enables clients to plug and play with either a Dubai Free Zone or Dubai on-shore license – they come in to get a license and workspace, and leave with so much more.  Seamless, hassle-free license and visa processing along with access to premium banking and insurance solutions allows business owners to concentrate on what matters, growing their business. We want clients to hit the ground running, so we give them access to our space from Day 1, while their license is processing – for free."
Connect with KIKLABB on:
@KIKLABB
#KIKLABB
Queen Elizabeth 2, Mina Rashid, P.O. Box 6769, Dubai, UAE
Location: https://maps.app.goo.gl/ya3Zo 

About KIKLABB @QE2: Intelligent Workspaces
KIKLABB is a government owned entity. Owned by PCFC Investments, KIKLABB provides Dubai Free Zone and onshore trade licenses combined with unique workspaces.
KIKLABB's intelligent workspaces consist of state-of-the-art technology, access to professional services, outstanding benefits along with an inspiring community, which create an enriching and rewarding business ecosystem for members. Whether you are an international company, mid-size enterprise, small business, or an entrepreneur, KIKLABB can help you expand your horizon with full-service licensing solutions and flexible workspace options.
For more information visit www.kiklabb.com

For Media Contact:
Hina Bakht
Managing Director
EVOPS Marketing & PR
M: +971 50 6975146 | T: +971 4 566 7355
Hina.bakht@evops-pr.com
www.evops-pr.com