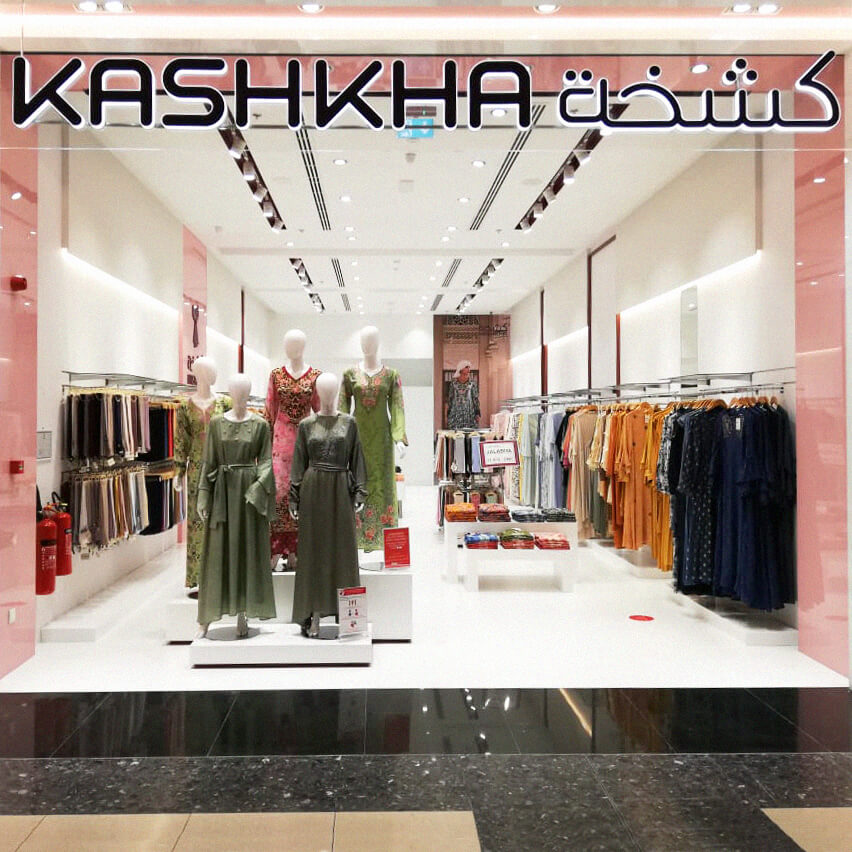 Kashkha Opens 4th Store in Oman at Muscat City Centre
Kashkha, a global retail brand for contemporary Arabic fashion, has announced the opening of its 4th store in Oman at the Muscat City Centre. The expansion marks a major milestone for the brand.
Commenting on the opening, the Kashkha Management, said, "Oman is a high-growth market for us, and we are very excited to begin 2021 with an exceptional addition to our portfolio in a prime location in the Sultanate. Muscat City Centre is home to world-renowned brands and top entertainment facilities and is, therefore, a popular shopping mall. It is a strategic choice for us to increase brand visibility and serve our customers closer to their residences. We look forward to welcoming both existing and new shoppers to this fabulous new facility."
Spread over a floor area of 1,290 square feet at the premier shopping center and leisure destination in Muscat, the stunning new Kashkha showroom offers the brand's latest collection of Jalabiyas, Kaftans, Hijabs, Mukhawars, Nightwear, Maternity Wear and Modest Fashion.  Completing the look of the store is the glamorous appearance of the front façade along with spectacular window displays.
According to the Kashkha Management, "Combining classic with contemporary designs, Kashkha is a celebration of Arabian style and heritage. Our latest facility at the City Centre Muscat has been conceptualised around the lifestyle of our shoppers offering high-quality and affordable range of clothing that is all about celebrating modest fashion in every sense of the term."
With a two-decade long success story, City Centre Muscat is located in Seeb on Sultan Qaboos Road. and attracts more than 11 million visitors annually. Aiming to create great moments for everyone, every day, the mall is owned and operated by Majid Al Futtaim – the leading shopping mall retail and leisure pioneer across the Middle East and North Africa.
STORE LOCATION
The Kashkha showroom is located on the Ground Floor of City Centre Muscat with direct access from the main entrance. For more information visit www.kashkha.com
–Ends–
About Kashkha
Established in 2003 in the UAE, Kashkha is a leading international retail brand for contemporary Arabic fashion. Weaving tradition with modern style, Kashkha offers a superb range of women's clothing for every occasion with a wide selection of Jalabiyas, Hijabs, Modest Fashion, Nightwear and Maternity Wear. With over 30 stores in all the major shopping malls across the UAE, France, Singapore, Oman, Qatar, Malaysia, Indonesia, Djibouti, Morocco and Lebanon, Kashkha is committed to provide its customers an outstanding experience with superb quality and attention to details.  The brand's online platform (www.kashkha.com) operates worldwide in more than 150 countries.
For media contact:
Hina Bakht
Managing Director
EVOPS Marketing & PR
Mob: 00971 50 6975146
Tel: 00971 4 566 7355