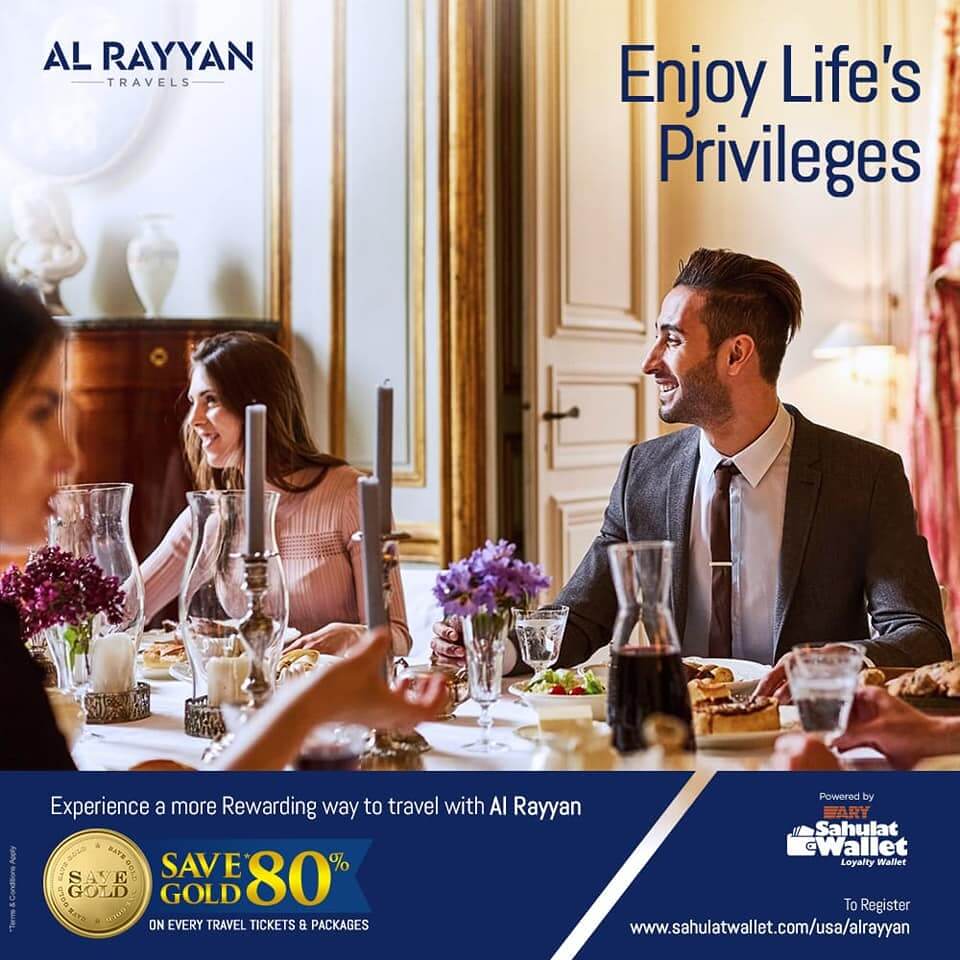 ARY BEE Global Expands into USA with Signing of MOU with Al Rayyan Travels
Continuing its expansion, ARY BEE Global has made its debut in the United States of America with the signing of a memorandum of understanding (MOU) with Al Rayyan Travels USA. As part of this strategic alliance, customers of Al Rayyan Travels USA will be able to save up to 80% Gold on their spend at Al Rayyan Travels USA as well as any of the ARY BEE Global business success partners through ARY Sahulat Wallet.
Mr. Usuf Soni, CEO of ARY Services, said "We are very excited to add Al Rayyan Travels USA to the ARY BEE Global portfolio. While strengthening and expanding our international network of business success partners, it will offer customers of Al Rayyan Travels the opportunity to be part of something very unique and build assets in gold with every spend. Tourism is a core pillar of our business, and this new development is aligned with our global growth plans. Above all it will elevate and enhance our offering by giving greater choice to ARY Sahulat Wallet members."
Giving details of the understanding, Mr. Uzair Ahmed, CEO of Al Rayyan Travels USA, stated, "We are delighted to partner with ARY BEE Global. Our collaboration with ARY BEE Global will allow us to offer our customers outstanding benefits and incredible experiences with a unique, simple and secure asset building initiative. As part of the 'One World One Wallet, our customers can save up to 80% Gold with ARY Sahulat Wallet on base fare of travel ticket and tour packages. In addition, members of the programme will be entitled to more savings in gold with every spend at any of the 1000+ ARY BEE Global partners in the UAE and Pakistan as well as online on https://uae.sahulatbazar.com/ ".
Mr. Soni added, "BEE Global by ARY is a business enhancement ecosystem of business success partners connecting humanity for prosperity. We provide businesses everything they need to make or enhance their brand and get direct access to millions of buyers globally.
When you join BEE Global, you join the world. Through BEE Global we aim to create a more fertile and profitable business network and environment for all."
To know more or register:
 or Whatsapp: +971 58 279 4653
#ARYBEEGlobal #ARYSahulatWallet #uaesahulatbazar #SaveGold #gold #ARY #SahulatBazar